Our approach:
Sustainable materials, fair working conditions
and transparent communication.
SUSTAINABILITY IS NOT A PLUS,
BUT A MUST.
Surfrider Clothing provides high quality sustainable clothing and accessories, inspired by the beach for people who want to support our cause: The protection of the ocean.
Beacause better practices and better materials help make a better ocean, all products are made out of sustainable materials produced under fair working conditions.
With the profits we raise awaereness and funds for our educational sensitizing and environmental programs throughout Europe.
MATERIALS
Our selection of clothing is made with sustainable materials.
We mainly use natural fibers that care for your skin and for the environment, like Organic Cotton or Tencel, a wood fiber. In order to be true to our values we work with suppliers who obtain the strictest environmental certifications for the entire production chain.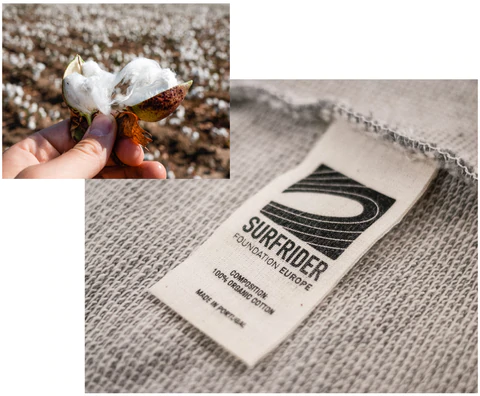 BREAK FREE FROM PLASTIC
At Surfrider we do our best to have the lowest possible impact to the environment for our garments.
We created the campaign "Rise above plastics" to ban plastics from our lives, so we also want to commit to this cause radically and avoid plastic in our merchandise.
For this reason, for our new Logo Collection, we activated our design and development team, did research, talked to several factories and finally produced the first 100% plastic free garments!
All sewing threads and labels are made out of cotton too – instead of polyester, which is used normally. We added no unnecessary labels and we ship all goods without single packaging.
FACTORIES
We care about ethics and sustainable development.
Our goods are produced exclusively in exemplary factories that protect the rights of the men and women they employ and do their utmost to minimize their environmental footprint.
Our non-european supplier is affiliated with the Fair Wear Foundation, which works with brands, factories, trade unions, NGOs and sometimes governments to verify and improve workplace conditions in eleven production countries in Asia, Europe and Africa, and keeps track of the improvements made by the companies it works with.
Our biggest collections are produced and printed in Portugal, close to the city of Porto. We know the employees by name, our partners understand our cause and they agreed to work with only 100% organic cotton, including labels and threads, avoiding all plastic from the garments. We also chose to produce our clothing in Europe whenever it ́s possible to minimize our carbon footprint and to be able to supervise every step of production, from the fibre to the final garment.
PRINTING
Printed in Europe with love and GOTS certification
All our garments are printed with high-quality waterbased inks. When not printed directly in Portugal, our clothings are printed in an eco-friendly, high-quality printhouse in France, certified by GOTS (Global Organic Textile Standard).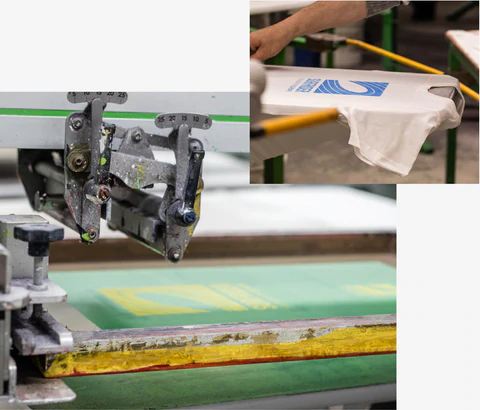 WHERE DO OUR PROFITS GO?
Our goal is to raise awareness and funds for our educational, sensitizing and environmental programs throughout Europe. Find out more about our missions here.